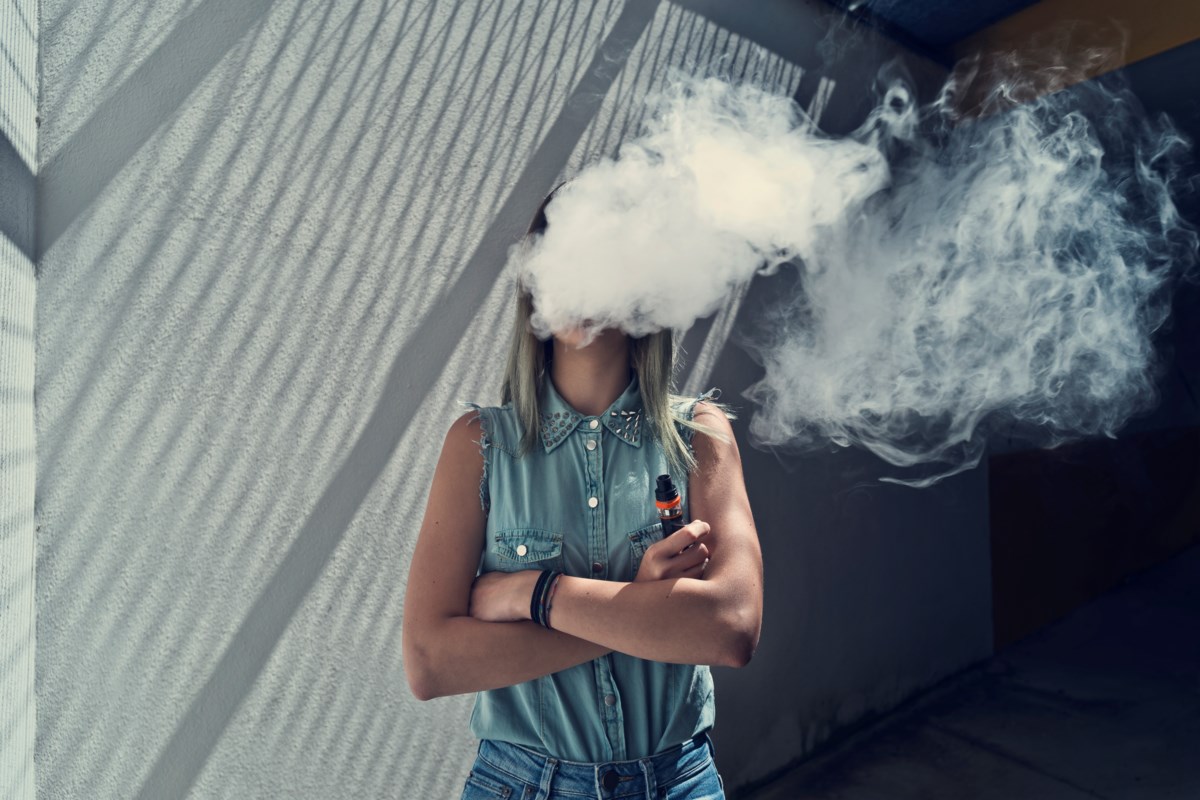 Vaping is a gateway to smoking for young Canadians, survey finds
"Vaping is harmful, period. For health, especially for young people," says the Heart and Stroke Foundation.
According to new data released by Statistics Canada, two-thirds of Canadian teens aged 12 to 17 have used e-cigarettes or vapes before smoking cigarettes.
By comparison, a third of young adults between the ages of 18 and 24 said they had taken an electronic cigarette before smoking.
"That's the big concern we've always had at Heart & Stroke about vaping, which is to say we were concerned a few years ago that it would be a gateway to cigarette smoking among young people. And in fact, that's what we're seeing," says Manuel Arango, director of policy and advocacy at the Heart and Stroke Foundation.
"Now you get dual use, and you get the double whammy of very harmful vaping. And then very harmful smoking, and that's vaping-initiated."
The Statistics Canada study indicates that, compared to inhaling tobacco smoke, vaping may be less harmful. It's a statement that Johns Hopkins Hospital also repeats in a blog post on whether vaping can help smokers quit their addiction.
But Arango points out that "vaping is harmful, period. For health, especially for young people."
A 2021 study by a Swedish research team, led by Gustaf Lyytinen, a clinician at Helsingborg Hospital and a researcher at the Karolinska Institute in Stockholm, found that e-cigarettes containing nicotine can lead to heart attack, stroke, increase the chances of blood clotting and harm. small arteries.
Although this study is small, it suggests that nicotine-loaded e-cigarettes have similar health effects to traditional cigarettes.
In the past, some research has suggested that vaping can help smokers quit. But many others argued otherwise.
"It's very inconclusive whether even these products are helpful in quitting smoking. It's just not there. And instead what's happening is all these young people are getting addicted to the nicotine and end up smoking, so it's a bit of a public health disaster," says Arango.
A 2021 Heart and Stroke Foundation study found that "between 2017 and 2018, vaping among Canadians aged 16-19 increased by 74%."
Taxation, ban on vaping flavors
The 2022 federal budget included a tax on vaping products, effective October 1, 2022. The tax is $1 for every 2ml of vaping products for the first 10ml of vaping liquid. Additionally, the tax adds an additional $1 per 10ml of vaping liquid thereafter.
Vaping taxes are a precautionary federal government regulation that Arango says can reduce the use of vaping products among young people.
Some provinces have implemented a provincial tax, but consistency is important, he says.
"We need all provinces in Canada to align with what the federal government is doing and then continue to increase these taxes, because taxes have really helped reduce smoking, and they can help reduce vaping among young, especially because they are price-sensitive," says Arango.
Another imperative measure, he says, is the restriction of flavors.
Nine out of 10 young people said flavors played an important role in why they started vaping and why they continue. Flavors popular with young people include berry, candy, mango, and mint/menthol.
In 2021, the federal government proposed to ban vaping flavors "to prevent the use of vaping products from resulting in the use of tobacco products by youth and non-users of tobacco products," says the schedule to the Tobacco and Vaping Products Act.
But Arango observes that Health Canada did not include mint/menthol in the flavor ban.
"We know mint/menthol is the second most appealing flavor. We urge them to include mint/menthol because it's something young people love too."
Health Canada is also looking to implement regulatory measures that would require manufacturers to report to the Department on product sales and ingredients.
Arango says disclosing information is good for research but not necessarily useful for the average person.
"Ingredient disclosure is useful for researchers and governments because they can then track and see what may be causing harm, other than nicotine, which is getting young people addicted. But sometimes you can wonder if people, young people will read the ingredient list if it's very small, so bigger warnings are better," he says.
Similar to cigarette warnings that have recently been proposed and are expected to be implemented by the end of 2023, Arango says that "warnings that are significant like on cigarettes that cover 75% of the pack that speak very directly harms of vaping, that would be more helpful."