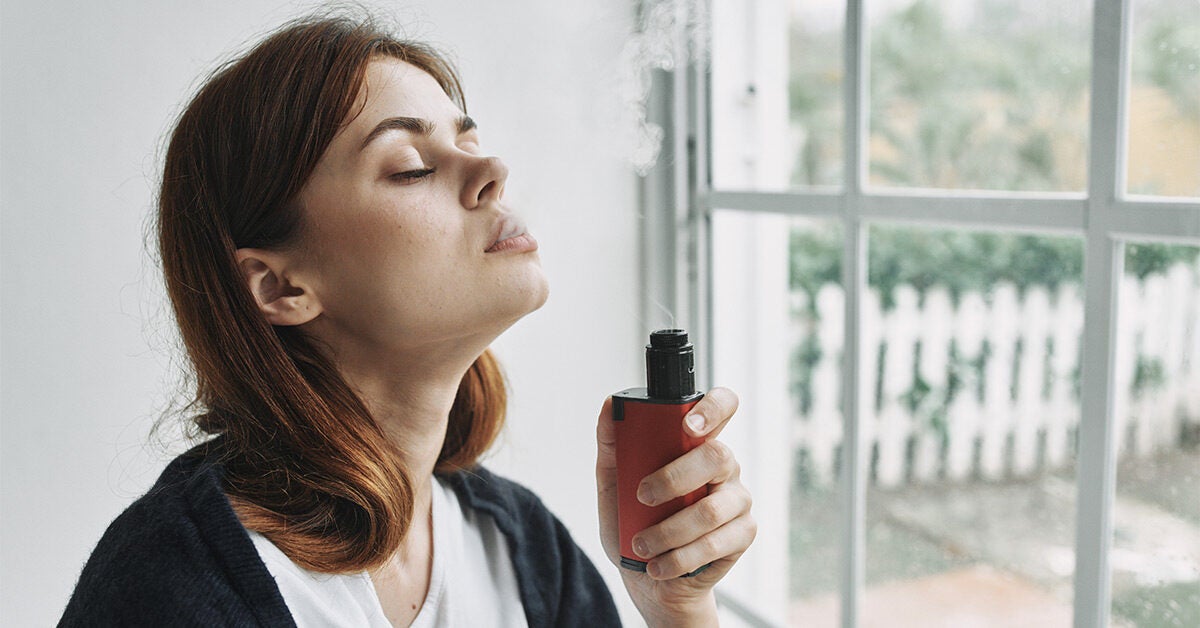 The health risks faced by adolescent "triple users"
Researchers report that nearly 17% of high school students in a new study were "triple users" of marijuana, cigarettes and e-cigarettes.
They say these "triple users" face higher risks to their physical and mental health.
Experts add that it is more difficult for "triple users" to quit smoking and vaping.
In sports, being a triple threat probably means you're a big dangerous player for the other team. But when it comes to inhaling certain substances, a triple threat means danger to the user.
A new study reports that a large group of teens use e-cigarettes, cigarettes and marijuana at the same time.
Researchers say these young people are at greater psychosocial and health risk than exclusive users of cannabis, tobacco or e-cigarettes.
The study intersected the use of e-cigarettes, combustible cigarettes, and marijuana among high school students in the United States who participated in the 2019 Youth Risk Behavior Survey.
The largest segment of participants, around 44 percent, were those who had never used any of the three substances.
The second largest group was triple users with almost 17 percent. E-cigarette and marijuana users were next (almost 16%), followed by exclusive e-cigarette users (13%).
The triple user group was generally superior to the other groups in terms of the level of risk for psychosocial variables.
The study results included suggestions for further research on the social and health implications of e-cigarettes. He also indicated a need for more research on prevention approaches for double and triple users.
The researchers said further research is crucial because the addictive effects of these habits put people at a greater risk of adverse health consequences.
Other experts agree.
"I think there are two aspects of the study that are worth highlighting and that tell us something new," Aaron Weiner, PhD, clinical psychologist, addiction counselor and president-elect of the Society of Addiction Psychology.
"First of all, this is one of the first studies to report that the non-user group represents less than 50 percent of the total sample," Weiner noted.
"Until now, it was safe to say that more teens did not use smoked or aerosol-based drugs than those who did. I think there is a clear line that can be drawn here between the increase in vaping, both for nicotine and for THC / marijuana, and this increase in teenage consumers above the 50 mark. percent, "he said.
Weiner said he would like to see more details on the age and frequency of use of users.
"Second, in terms of triple users, the concept makes intuitive sense," Weiner added. "We know that nicotine and THC have negative emotional consequences for adolescents, so it stands to reason that adolescents who use all three substances and methods of administration are likely to use more drugs in general, which places them in a higher risk category than an adolescent using fewer drugs. or no drugs at all.
"The research into how nicotine and THC harm the developing mind is vast, and the less exposure teens and teens are to these substances the better," he concluded.
Brian Wind, PhD, is the Clinical Director of JourneyPure, a national chain of recovery centers. Wind told Healthline that the combination of the three makes quitting much more difficult.
"Studies have shown that all three uses combined can dramatically reduce motivation to quit, poorer results when it comes to quitting attempts, increased risk of mental health disorders and poor memory functions. "said Wind.
"The long-term effects may be worsened by a greater negative impact on brain development and coordination, and greater dependence on nicotine and tobacco," he added. "It may also increase the risk of psychiatric illnesses and risky behaviors to a greater extent compared to adolescents who exclusively use e-cigarettes or marijuana, which can have negative physical and social consequences."
Dr Jordan Tishler, president of InhaleMD and instructor at Harvard Medical School in Massachusetts, told Healthline that parents need to be prepared to deal with the problem.
"They have to face the risks when their kids are in middle school, or even earlier," Tishler said. "They need to be aware of these risks and be able to have frank, impartial and non-judgmental conversations with their children. Children are good hypocrisy detectors, so the discussion should be honest.
"The data from this study provides information parents can use to chat with their children and help keep them safe," he added.