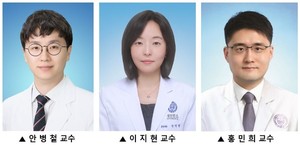 Smokers are 3.5 times more resistant to treatments targeting lung cancer
[ad_1]

Long-smoker lung cancer patients with relatively fewer cases of brain metastases have shown stronger resistance to targeted therapies, Severance Hospital said on Friday based on patient research.
A research team, led by Professors Ahn Beung-chul, Lee Ji-hyun and Hong Min-hee of the Lung Cancer Center at Yonsei Cancer Hospital, discovered two characteristics of patients resistant to EGFR (Epidermal Growth Factor Receptor) – Tyrosine kinase inhibitor (TKI) in non-small cell lung cancer (NSCLC) caused by EGFR mutation – long-term smoking and less brain metastasis.
NSCLC accounts for 80 to 85 percent of total lung cancer. Various mutations such as EGFR, anaplastic lymphoma kinase (ALK), and reactive oxygen species (ROS1) can cause NSCLC. Of these, EGFR represents 30 to 40% of NSCLC.
Tyrosine kinase inhibitor (TKI) therapy that targets EGFR mutants includes gefitinib and erlotinib as the first generation TKI, and afatinib and dacomitinib as the second generation TKI. However, the use of these drugs for 10-12 months leads to the rejection of the treatment. Therefore, third generation TKIs, including Osimertinib, are applied. And, between 5 and 22% of resistance to first to third generation TKIs is caused by the MET mutation.
The team analyzed 186 patients at Yonsei Cancer Hospital who had failed first to third generation EGFR-TKI treatment from 2004 to 2019. Among them, the team compared patients who had positive MET amplification to negative patients. Thirty 30 patients, or 16.1 percent, showed positive MET amplification.
The progression-free survival period (PFS), where the worsening has stopped, showed a difference between first and second generation TKI patients. The median PFS of MET positive patients was seven months, shorter than the 10.4 months of negative patients. Compared to third generation patients, no noticeable difference was found.
The factors that led to the cause of MET amplification were smoking and brain metastases. In the case of smokers, the rate of MET amplification was 3.5 times that of non-smokers. Additionally, patients without brain metastases had an 86 percent less chance of MET amplification than patients with spread cancer to the brain.
The research established criteria for selecting patients who need a positive MET amplification test, including smokers and those with fewer brain metastases, and defined a new guideline for deciding whether they have or not have MET amplification tests, the hospital said.
Drug-tolerant patients who smoke and have less brain metastasis can get tested and proceed with the following treatments, he added.
"Smoking and less brain metastasis increase the chances of MET amplification and resistance to EGFR-TKI therapy," said Professor Lee. "The research results will aid the research and development of a targeted therapy by mutant MET."
[ad_2]