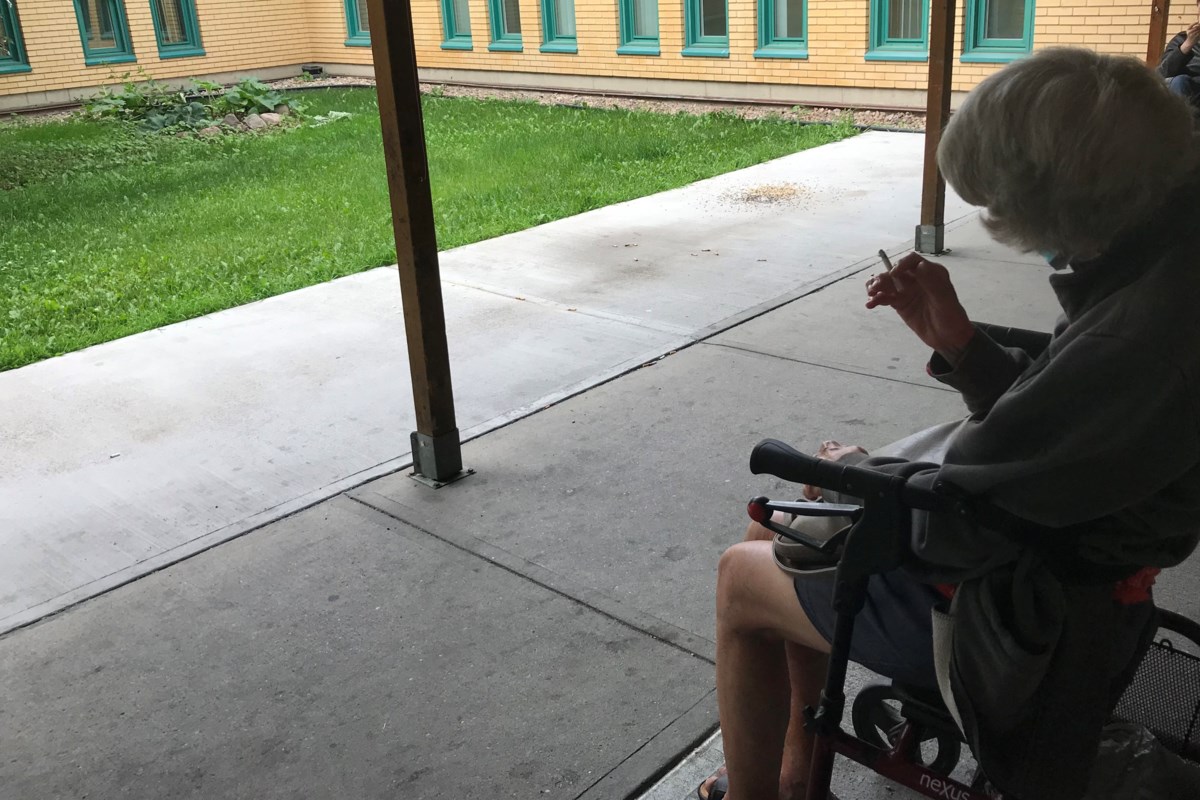 Seniors who smoke: can we light up while living in a retirement home?
Do smokers have to quit in order to live in reception facilities or is there a will to welcome them?
Seniors who cannot stop using nicotine face life-altering changes in an ever-expanding smoke-free world.
Figures from Statistics Canada show that about 55,200 Albertans over the age of 65 smoked in 2020, up slightly from 54,000 in 2019. The total number of smokers of all ages has fallen over the same period.
The number of seniors' facilities in Alberta with indoor smoking rooms has fallen to 17, while another 155 centers have designated outdoor smoking areas, according to Alberta Health Services. The remaining 275+ facilities don't even allow smokers to move in.
"It's ridiculous. Smokers should get help," said Ruth Adria, executive director of the Elder Advocates of Alberta. Adria says more attention should be paid to older smokers in care settings. They don't move to these facilities because they have a choice. It's because they have to. They've been smoking for decades. They're addicted."
An official from the Beaver Foundation, which operates two lodges with smoking rooms in Beaver County, southern Alberta, agrees, saying it's safer to allow seniors to continue lighting on the inside.
"If you force an older person to quit smoking, they will try to sneak cigarettes into themselves and that will create a really bad environment," Beaver Foundation CEO Owen Ligard said, adding, "These people have been smoking for 60 to 70 years. You can't expect them to give up.
The operator of a long-term care facility in Calgary says there are benefits to having a smoking room even if it presents challenges for staff.
"We have compliant smokers and others who like to bend the rules," said Scott Wagner, chief executive of Mayfair Care Centre, adding, "Not everyone wants to work in this unit."
Wagner says all smoking residents of Mayfair live in a unit. "We have room for 37 people in the smoking unit and right now it's almost full," he said.
An official from an assisted living facility in Lac Ste. Anne, west of Edmonton, says the main benefit of their smokehouse is that it stops risky behavior among residents.
"The advantage is that we don't have to kick anyone out for smoking," said Tammie Jacobs, site manager of Chateau Lac Ste. Anne. Jacobs says downsides include secondhand smoke billowing out of the room and the difficult cleaning routine for staff.
The outdoor smoking area at Edmonton's Villa Marguerite also creates increased challenges for staff.
"The number of smokers in the Independent Living Zone is increasing – we're at about 25-30%," said Cheryl Bilous, Chief Healthcare Officer. "We have more smokers here because a lot of the new homes don't take smokers.
"A smoker puts the whole building at risk. If he doesn't follow the rules, he's moved," Bilous said. "It's difficult to get them relocated, but we're managing."
A 68-year-old man who lives in a low-income seniors' facility in Calgary faces eviction after he was caught smoking in his suite earlier this summer.
"I was smoking by the window and someone smelled it and reported me. I have to be out by the end of August," said the man, who did not want to be named. .
Bilous, who was once a two-pack-a-day smoker, understands the difficulties that smokers face.
"For these residents, it's the only thing that brings them real pleasure in life. They don't have much else to do."
The president and CEO of St. Michael's Health Group, which operates four locations in central Alberta, said the decision to remove the smoking room from all properties in 2019 was a difficult one.
"Our smoking room was up to building code, but even with proper ventilation, second-hand smoke was entering the common areas," John Kopeck said.
Bilou suggests building "smokers only" shelters as a possible solution.
"There are safe injection sites and sites for alcoholics. It could be a special house for smokers that takes safety concerns into account," she said.
Programs to help seniors quit smoking can be found at: albertaquits.healthiertogether.ca/stages-of-change/