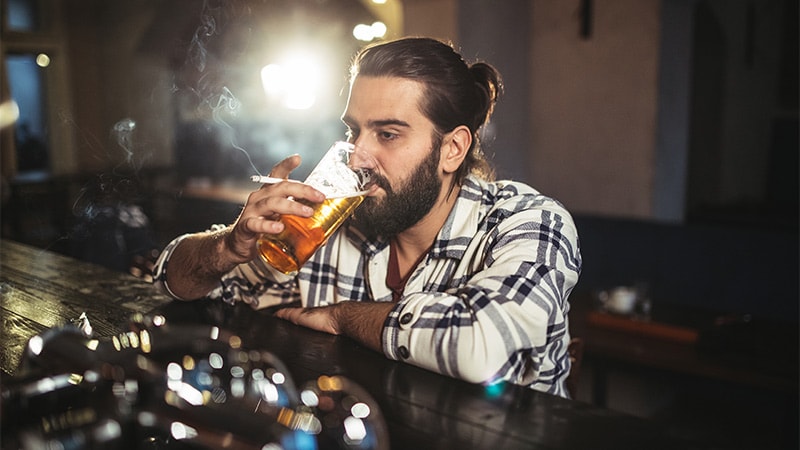 Quitting smoking can also put an end to hazardous alcohol consumption
Medicines that help smokers quit smoking seem to have another benefit: reducing excessive alcohol consumption.
Researchers in the United States and Russia have found that a variety of therapies to reduce the craving for nicotine – including prescription and over-the-counter drugs – reduce levels of smoking and alcohol in tandem. People who completely quit smoking reduced their alcohol consumption the most.
According to first author Hilary Tindle, MD, MPH, internal medicine physician and founding director of the Vanderbilt Center for Tobacco, Addiction and Lifestyle at Vanderbilt University Medical Center, Nashville, Tennessee, heavy smoking and heavy drinking often range from peer.
"If a smoking drug could help fight smoking and alcohol, that's a major win. It's one less drug a person has to take," Tindle said. Medscape Medical News. The study was published online August 5 in JAMA network open.
Using nicotine withdrawal therapies that target particular neurons has been shown to reduce excessive alcohol consumption in rats, suggesting a possible neural link between alcohol consumption and smoking, Tindle said. Moreover, she said, many of the cues that induce heavy smoking also encourage heavy drinking. These signals vary from person to person, but may include watching others smoke and drink in a bar or smelling cigarette smoke or alcohol. As a result, therapy that addresses one issue can provide psychological ballast to tackle the other, Tindle said.
Each of the 400 participants in the new study (263 men; average age 39) is HIV-positive and lives in St. Petersburg, Russia. Prior to enrollment, participants smoked an average of 21 cigarettes per day and consumed an average of nine heavy drinking days per month. A heavy drinking day was defined as drinking five or more drinks per day for men and four or more drinks per day for women.
The researchers randomly divided the participants into four groups. One group received varenicline (Chantix), a smoking cessation drug, and a placebo form of a nicotine-containing mouth spray; another received a varenicline placebo and an active mouth spray; the third received the anti-smoking drug cytisine and a placebo mouth spray; the fourth received a cytisine placebo and an active oral spray.
The primary endpoint was the reduction in the number of heavy drinking days in the previous 30 days from baseline after 3 months. In all groups, regardless of smoking cessation approach, binge drinking dropped to an average of about twice in 30 days, compared to nine times before the start of the study. According to the researchers, no significant difference emerged for any of the approaches.
Smoking rates also dropped for 12 months, sometimes to abstinence, the researchers said. After 3 months, 84 of the 400 participants (21%) had completely stopped drinking, which the researchers verified biochemically. Self-reports showed that this level of abstinence from alcohol was maintained at 6 and 12 months.
The researchers say they expected varenicline and cytisine to reduce heavy drinking days and help people quit drinking more than nicotine replacement.
"We were quite surprised to see that there was no difference in how well any of these drugs helped people reduce their alcohol consumption," Tindle said. The mouth spray used in the study is not available over-the-counter in the United States, but Tindle said non-prescription nicotine replacement therapy is known to be effective and is available as a lozenge, patch or spray.
Post-hoc analyzes of the study results showed a potential virtuous circle: people who completely quit smoking appeared to reduce their alcohol consumption more significantly than those who slowed down but did not completely quit smoking. to smoke.
"This adds to the evidence base that there are benefits to stop smoking medications. There is real value in helping people quit smoking," said Stephanie O'Malley, PhD, professor of psychiatry. Elizabeth Mears and House Jameson at Yale University School of Medicine, New York. Haven, Connecticut, who studied varenicline for alcohol use disorders.
Tindle noted that cytisine is available in Russia but not in the United States. One of the reasons her group conducted the trial in St. Petersburg was to investigate an additional option for quitting smoking, she said. Another benefit of this location, Tindle added, is that Russian researchers have built relationships with people living with HIV, a group often overlooked in addiction research.
"There are a lot of people with a range of comorbidities who smoke, probably at a higher rate than the general population," O'Malley said. "People with comorbidities are often not recruited into clinical trials, so I think this is a really important study from that perspective."
Tindle helped develop cytisine phase 3 trials in the United States. O'Malley reported no relevant financial relationships.
JAMA Netw Open. Published online August 5, 2022. Full text
Marcus A. Banks, MA, is a New York-based journalist who covers health news with a focus on new cancer research. His work appears in Medscape, Cancer Today, The Scientist, Gastroenterology and Endoscopy News, Slate, TCTMD and Spectrum.
For more news, follow Medscape on Facebook, TwitterInstagram and YouTube.