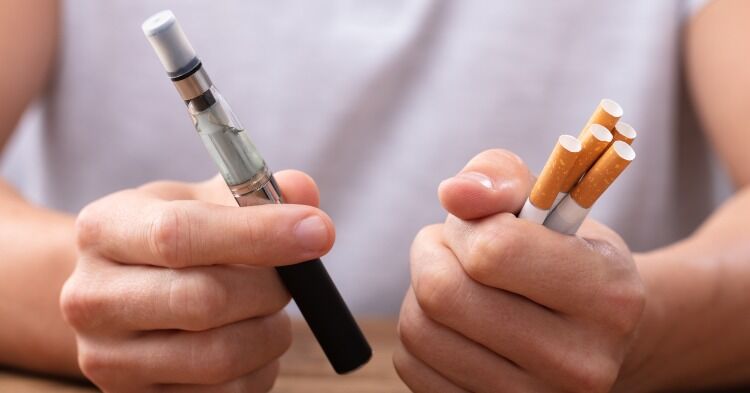 NHS vape starter kit vouchers could help the heaviest smokers quit, trial finds
Distributing vape starter kit vouchers on the NHS could help even the heaviest smokers quit for good, with 42% quitting in a month under a trial scheme.
A study published by the University of East Anglia found that offering a £25 vape shop voucher to smokers made it easier to quit smoking by removing some of the upfront costs and patient worries associated with smoking. change.
The researchers worked with GPs in Great Yarmouth as well as the NHS Stop Smoking Service to test the program, which is now being rolled out across Norfolk due to the success of the trial.
A total of 668 participants who had previously failed to quit smoking were referred to the program, each being offered a voucher that could be redeemed at a participating vape store. Participants also received advice on which products were right for them, technical and informational advice, and access to peer-to-peer support.
Of these participants, 340 redeemed a voucher for a vape starter kit and within four weeks, 42% (143) had quit smoking. An additional 15% (50) quit 12 weeks after redeeming their vaping vouchers.
Smoking rates have generally declined across the country to less than 15%, but these are still areas with much higher rates. Great Yarmouth, an area of ​​high health inequality and deprivation, has a smoking rate of 21%. A rate that rises to 31% among routine adults and workers.
Lead researcher and addictions expert, Professor Caitlin Notley, from UEA's Norwich Medical School, said: "Research shows that vaping is an effective way to quit smoking, compared to alternative therapies for nicotine like patches and gum. E-cigarettes or vapes are the most popular way to quit smoking today.
"Our research has previously shown that they can be particularly helpful in helping people not just quit smoking, but stay away for good.
"We wanted to see if GPs giving out vaping vouchers, together with support from the Stop Smoking Service, could help smokers quit. We particularly wanted to target vulnerable and disadvantaged smokers who had not been successful in quitting by other means.
Interviews with program participants revealed that vaping starter kit vouchers, along with information sessions, were effective in reducing barriers to starting vaping, particularly the initial costs of purchasing a vape .
Participants also told researchers that the program had allayed concerns about vaping safety. In particular, one participant said he was worried about "popcorn lung," a rare lung condition officially known as bronchiolitis obliterans that has been linked without evidence to vaping. However, the information sessions were able to reassure the participant and remove this particular barrier.
Professor Notley said: "This innovative approach has seen the local NHS Smoking Cessation Service, vaping retailers and researchers working together, recognizing that other forms of smoking cessation support do not work for everyone. world.
"Overall the project was well received by smokers as it offered an affordable route to vaping. General practitioners supported the program and appreciated being able to offer an alternative to heavy smokers.
The team hopes a similar vape starter kit voucher scheme could be rolled out across the UK, to help more people switch from smoking to vaping and reduce the number of people who still smoke cigarettes.