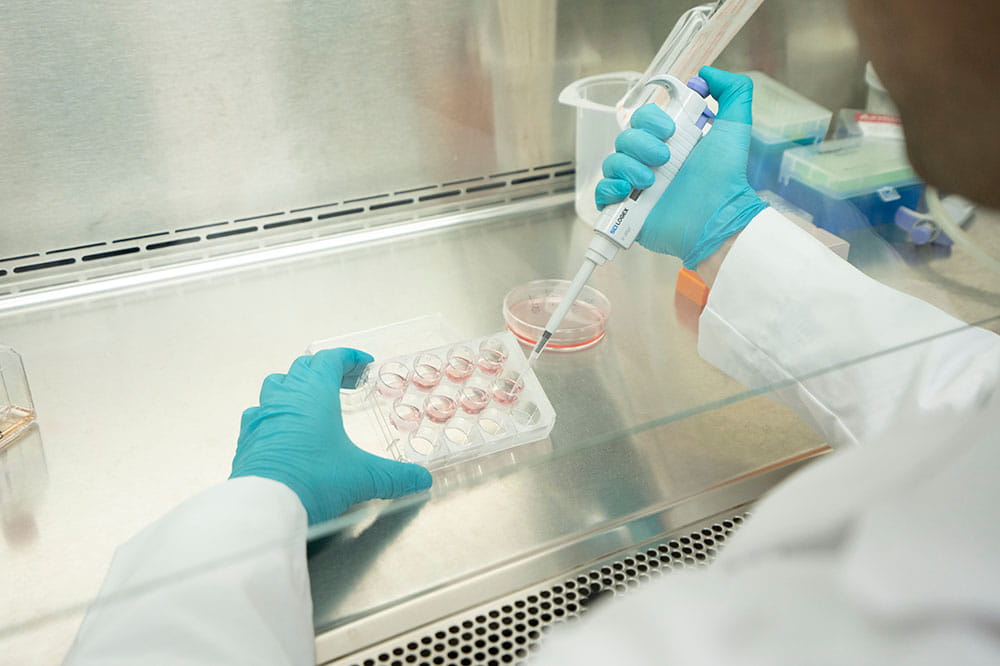 Four Hollings researchers receive grants from the American Cancer Society | MUSK
Four MUSC Hollings Cancer Center researchers have received American Cancer Society Institutional Research Grants worth $35,000 each. Grants are awarded to researchers who are investigating promising projects that will advance cancer care.
Caitlin Allen, Ph.D.
Hollings researcher and assistant professor in the Department of Public Health Sciences
"KEEP IT (Keeping Each Other Engaged via IT): An Innovative Digital Literacy Training Program for Community Health Workers on Hereditary Breast and Ovarian Cancer in Black Women"
Allen's goal is to develop and launch a new training program for community health workers called Keeping Each other Engaged Program via IT (KEEP IT). KEEP IT is an innovative training for community health workers designed to build skills in using health informatics tools to facilitate identification, screening and access to genetic services for Black women who are at increased risk. hereditary breast and ovarian cancer. Previous studies show that black women are much more likely to have the BRCA 1 or 2 mutation, making them 10 times more likely to develop breast or ovarian cancer. Despite the increased risk, this population often presents with more advanced disease.
"Our hope is that this training program brings us closer to addressing cancer inequities and contributes to growing efforts to reduce disparities in access to precision medicine," Allen said. "As the only National Cancer Institute-designated cancer center in the state, Hollings has a responsibility to reduce the burden of cancer for all South Carolina residents, wherever they live."
Leonardo Ferreira, Ph.D.
Hollings researcher and assistant professor in the Department of Microbiology and Immunology
"Reassigning regulatory T cells for cancer control using chimeric antigen receptors"
Ferreira received the grant for her work on the role the immune system plays in the development and progression of cancer. Ferreira's project aims to determine how the immune system identifies normal cells from cancer cells. His work focuses on Tregs, which are regulatory T cells that suppress immune responses. Tregs accumulate in tumor cells, warding off attacks by the immune system. Ferreira hopes to develop more effective treatments that bypass Tregs to allow the immune system to attack cancer.
"It's really special that after a decade of studying how to build immune tolerance, my new perspective is being recognized as helpful in breaking immune tolerance in cancer," Ferreira said. "The next frontier in immune cell therapy for cancer is the treatment of solid tumors, and this grant will allow me to approach it from a new angle that I hope will bear fruit."
Natalie Saini, Ph.D.
Hollings researcher and assistant professor in the Department of Biochemistry and Molecular Biology
"Understanding the role of persistent inflammation in driving carcinogenesis"
Saini has been recognized for her work on systemic scleroderma, an immune-mediated multisystem disorder that causes widespread inflammation. Previous studies show that patients with the disease are at an increased risk of developing cancer, but little is known about why this is the case. Saini's study examines human lung cells to compare healthy cells to cancer cells, in hopes of developing earlier methods to diagnose and treat lung cancer.
"This award will allow us to investigate the underlying causes of DNA damage, mutagenesis and ultimately carcinogenesis in patients with systemic sclerosis," Saini said. "This study will lay the foundation for the development of precision diagnostics for patients with inflammatory diseases to determine their predisposition to cancer."
Tracy Smith, Ph.D.
Hollings Researcher and Assistant Professor in the Department of Psychiatry and Behavioral Sciences
"E-cigarettes as harm reduction tools in smokers who fail to quit with traditional methods"
The goal of Smith's research is to understand whether current smokers who have failed to quit with traditional methods would benefit from trying to switch completely to a less harmful product, such as e-cigarettes. The proposed study will be one of the first trials in the United States to directly compare e-cigarettes to FDA-approved drug therapy for smoking cessation. Smith hopes to show that e-cigarettes can be a stepping stone for smokers on the road to complete cessation.
"I'm excited to continue this new line of work," Smith said. "This project will provide new insights into how e-cigarettes compare to traditional FDA-approved drug therapy for smoking cessation. If we can improve our smoking cessation efforts, more lives can be saved.