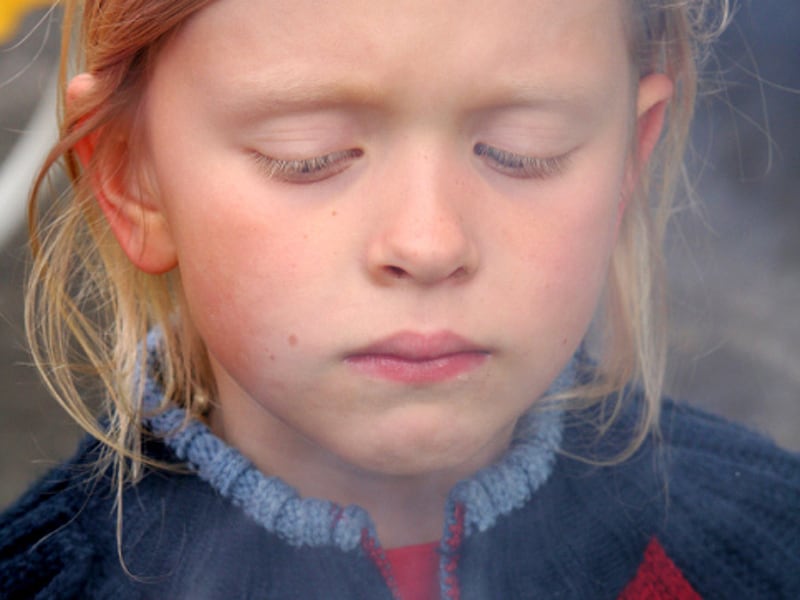 COVID-19 pandemic has increased exposure to children's smoke
Two-thirds of parents smoked at least the same amount if not more during the COVID-19 pandemic, forcing children to stay home due to school closures with increased risk of exposure to second-hand and third-hand smoke , suggests a British research.
Cara Bossley, Pediatric Respiratory Medicine Consultant, King's College Hospital, London, and colleagues interviewed 50 parents or caregivers who had already gone through a smoking cessation program.
About a third of parents smoked as much during confinement as before, while another third smoked more, leaving an average of 2.5 children per household exposed to parental smoke.
Dr Bossley said there were "a variety of reasons for the increase in smoking, but mainly anxiety, depression and uncertainty" were cited as the reasons.
As a result, the national lockdown "has increased exposure to second-hand and third-hand smoke among children in families who smoke."
Previously, children would have "spent a lot more time in and out of school", said Dr Bossley, while family members "who smoked in their workplace now smoked at home".
The research was presented at the 2021 International Congress of the European Respiratory Society (ERS) on September 6, and recently published in Lancet respiratory medicine.
Pandemic effect
Jonathan Grigg is Professor of Pediatric Respiratory and Environmental Medicine at Queen Mary University, London and Chairman of the Tobacco Control Committee of the European Respiratory Society.
He said Medscape UK News that there was "the initial feeling that people might quit smoking" during the pandemic because "they would be more concerned about lung health" and reducing social smoking.
"On the other hand, clearly [the pandemic] was a huge stress and the focus was mostly on COVID and… there was no real effort to use "the pandemic as an opportunity to promote general lung health.
Prof Grigg continued that the current data is therefore "important" and stresses that "we still have a big problem with smoking and we still need to invest significantly in smoking cessation services".
He noted, however, that smoking cessation services had been "drastically reduced" over the past decade and that the current study is also a "timely reminder" that children's smoke exposure "remains a problem as well". .
Nevertheless, the impact on children of increased exposure to smoke identified in the study is more inference than direct measures.
Professor Grigg said "we do not know" the exact degree of exposure of children and that there was no measurement of urinary markers.
But if there is smoking in the home, "whether it's inside or just standing inside the door, it means the exposure will increase."
Second-hand smoke
Dr Bossley began his presentation by emphasizing that passive exposure to smoke is "harmful to children", increases the risk of respiratory infection, coughs, preschool wheezing and asthma, and is particularly harmful when 'they already have respiratory illnesses.
In addition, children inhale "twice the amount of dust compared to adults", which means they inhale more smoke containing dust particles. They also have "faster breathing rates and narrower airways", further increasing the risks.
Dr Bossley also noted that third-hand smoke, or the build-up of harmful toxins or lingering residues from second-hand smoke, is harmful because it can be re-emitted into the air, becoming more and more toxic over time.
The closure of schools and after-school clubs in the wake of the COVID-19 pandemic has led children to spend more time at home, potentially increasing their risk of exposure to second-hand smoke from parents who are also forced to stay home. House.
To determine how smoking habits changed during the pandemic, the team contacted parents who were smokers and had previously participated in their quit motivation program with their Clinical Nurse Specialist in Respiratory Medicine (CNS).
The respiratory CNS administered a questionnaire by telephone to 50 parents and caregivers in January and February 2021, asking them about their family environment, the number and ages of children, smoking habits and how they changed during confinement.
Ninety percent of respondents smoked before the lockdown, while 8% vaped, the results showed, with just one household smoke-free.
During confinement, 34% of those surveyed smoked less than before, with the remaining 66% saying they smoked the same amount (34%) or more than before (32%).
Among parents, 34% vaped and smoked while in confinement.
The team found that an average of 2.5 children per household were exposed to environmental tobacco smoke. More than one family member smoked in 29% of smoking households, while in 6% of smoking households, the child had to protect himself during lockdown due to respiratory illness.
Households scored an average of seven out of ten on a hardship scale, with many citing stress in the home due to childcare and home schooling, inability to work, loss of security employment, boredom, and escalation of previous anxiety and depression. during the pandemic.
Dr Bossley said that in response to the findings, education efforts on the harmful effects of exposure to second-hand and third-hand smoke need to be improved, as well as the establishment of "virtual smoking cessation clinics".
No funding declared.
No relevant financial relationship declared.
European Respiratory Society International Congress 2021: Abstract 2579. Presented September 5