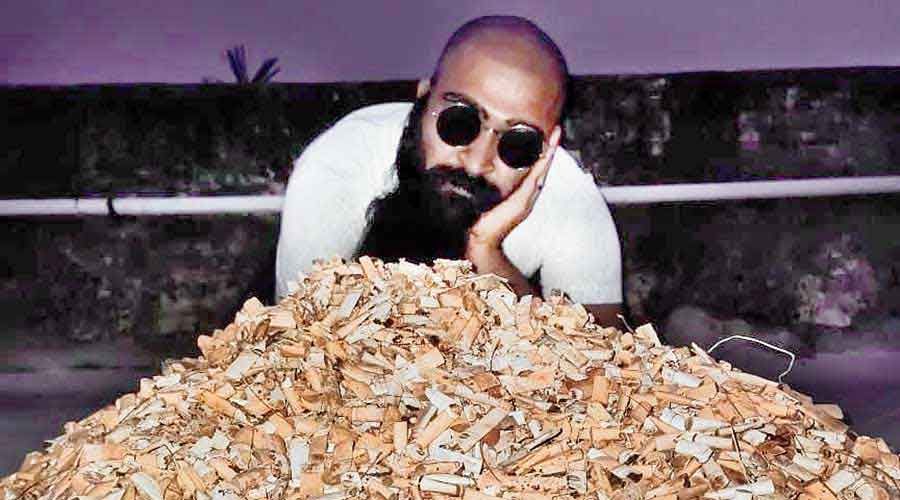 Activist and Cigarette Team Collect 23,400 Sector V Cigarette Butts in One Day
Not only for your health, smoking is also bad for the environment. The cigarette butt thrown away after smoking appears to be cotton, but it contains cellulose acetate – a plastic – which is terrible for the soil it ends up being thrown into.
To assess how serious the situation is, an environmentalist toured Sector V with the aim of collecting 10,000 cigarette butts in 24 hours. He exceeded his target and ended up with 10,400 cigarette butts. Seven other volunteers joined him and the collective effort was 23,400 cigarette butts. "And that's during the pandemic, so just imagine how many more people are coming to Sector V normally and how many more butts are littered," Nirit Datta said.
Nirit was an IT professional himself, but quit in 2018 to pursue his passion. He is now an advocate for wildlife and an actor for environmental change. The other thing he quit was smoking, and one of the main reasons was the plastic used in his production.
Nirit with the recycled bottles he collected them in
The telegraph photo
From words to deeds
Nirit didn't have to hunt throughout Sector V for his treasure. He covered the area of ​​six football fields around the Infinity building and collected the butts in plastic bags and bottles which he picked up from the street itself.
"There was this cigarette store next to Infinity Benchmark that I kept coming back to because it kept getting littered with butts every few minutes. I had over 2,000 cigarette butts nearby alone, "explains the striking-looking man with a shaved head and chest-deep beard. "A lot of people looked at me and 57 of them asked me why I was doing this."
Nirit explained his motive to them and asked in return if they knew what the cigarettes were made of. "Only three people knew it contained plastic. The others thought the ass was good old biodegradable cotton.
The heat, humidity and exertion (he must have done 2,000 squats that day) was immense and the southern Calcutta resident was forced to take several 10-minute breaks. He ate light foods and used gloves, a mask, and frequently sanitized his hands all the time. After the walk, Nirit quarantined himself for a week.
Members of Y-East, a network of environmental professionals supported by Techno India University, and Waste Wheel, a recycling start-up, have come to cheer her up and help her from time to time.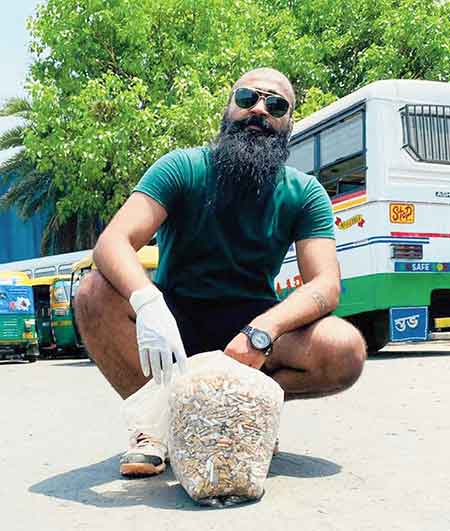 Nirit recovered the cigarette butts in bags and bottles found on the streets of Sector V
The telegraph photo
Guinness attempt
It took Nirit three days to count the butts and figure out that 70% of them were from the same manufacturer. He now wants to get closer to this company to install specialized bins in the offices frequented by smokers.
"Right now the cigarette ends clump together with the rest of the waste and it is not possible to separate them. If there were dedicated bins, as well as awareness campaigns, smokers would dispose of them responsibly and plastic could be treated and disposed of in an environmentally friendly manner. And since cigarette packs mention health hazards, they should also convey environmental messages, "says Nirit.
Tomorrow Nirit will be walking again, although this time it will be in Bangalore. And in December, it will attempt the Guinness World Records for the maximum number of cigarette ends collected by one person in one day. Before that, he will have to work on his fitness to reduce the time he needs to rest in the middle. The other thing he is sure of is to repeat his feat in Sector V itself.
"Having worked in the IT industry, I've seen people take 10 to 12 cigarette breaks a day. It's worse in the winter, when people think that smoking will heat them up, "says Nirit, adding that in the West there is an environmentally friendly way to create cigarette butts but smokers rarely enjoy them.